Buca di Beppo Thanksgiving Dinner: Buca di Beppo, known for its family-style Italian cuisine, offers a special Thanksgiving dinner that combines traditional holiday dishes with its signature Italian flavors.
Make this Thanksgiving special without spending all day in the kitchen. Choose Buca di Beppo, the top pick for your Thanksgiving dinner!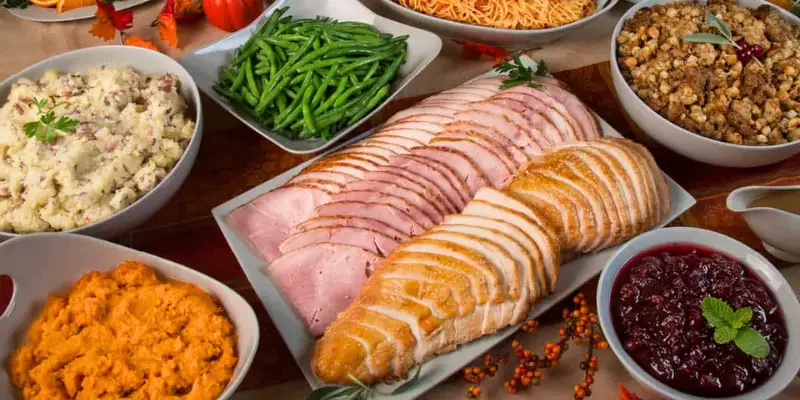 Dine in with us for a traditional Thanksgiving feast or take it to go. Hosting a big group? Or catering service has got you covered.
Their 'Thanksgiving Feast To Go' and 'Thanksgiving Catering' options offer flexibility. Pick up your meal COLD to heat up when you're ready, or HOT and prepared to serve immediately. Make your holiday relaxing and delicious with Buca di Beppo!
Buca di Beppo Thanksgiving Feast To Go
Are you planning on celebrating Thanksgiving at home this year? Look no further! Pre-order your Buca di Beppo Thanksgiving Feast To Go and enjoy a fantastic traditional Thanksgiving meal in the comfort of your own home, or wherever you'd like to celebrate this special holiday with your loved ones.
Buca di Beppo Thanksgiving dinner To Go comes in two sizes, perfect for any gathering. The SMALL Feast serves 3 people, while the LARGE Feast feeds 6 people, ensuring you have enough for everyone and some delicious leftovers that everyone loves!
But wait, there's more! You can make your Thanksgiving feast even more special by adding your favorite classic Italian dishes like Baked Ziti, Chicken Carbonara, and World Famous Meatballs.
Read More:
Buca di Beppo Thanksgiving Catering for a larger group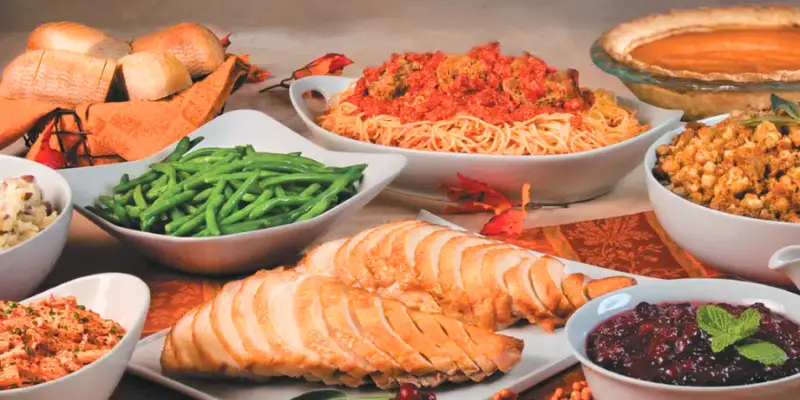 Having a big group for Thanksgiving? Choose from half pan for 10 people or a full pan for 20. Enjoy tasty dishes like Chicken Parmigiana and Spicy Chicken Rigatoni, plus yummy desserts like cannoli, tiramisu, and pumpkin pie.
half pan – $250 (Feeds 10) $25 per person
full pan – $450 (Feeds 20) $22.50 per person
Pick up your food easily or they can deliver to you. It's $250 for 10 people and $450 for 20 people. Have a fun Thanksgiving with delicious food from Buca di Beppo!
Buca di Beppo Thanksgiving Dinner Menu – Dining In
If you're looking to dine in at Buca di Beppo this Thanksgiving, you're in for a treat! Their Thanksgiving menu is filled with all the tasty dishes you love during the holiday. Here's what you can expect: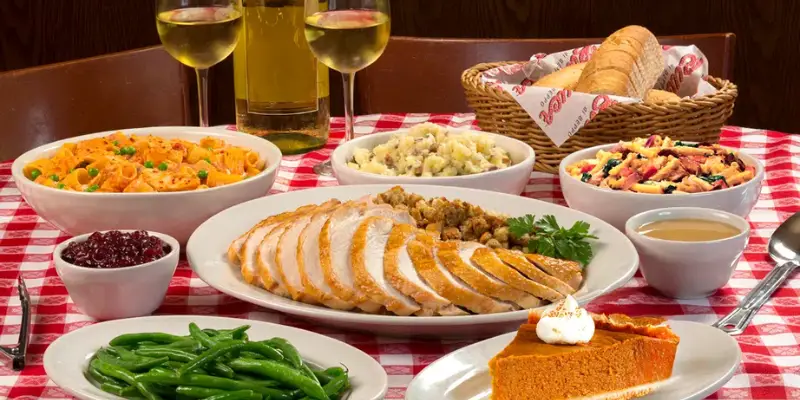 Yummy Turkey: They serve up super tasty sliced white meat turkey.
Tasty Sides: There's homestyle gravy, roasted garlic mashed potatoes, and spicy Italian sausage stuffing. Plus, you'll find seasonal vegetables and cranberry sauce on the side.
Delicious Dessert: And don't forget about dessert! They have amazing pumpkin pie to finish off your meal.
This Thanksgiving feast is served family style, which means you get to share all these delicious dishes with everyone at your table.
Making Your Reservation
It's super easy to reserve your table at Buca di Beppo for Thanksgiving. You can do it online! This way, you don't have to worry about making dinner at home. Just show up, relax, and enjoy a fantastic meal with your loved ones.
So, if you're looking for a fun and easy way to enjoy Thanksgiving this year, check out Buca di Beppo's Thanksgiving dinner menu. It's a great way to celebrate with your family without the stress of cooking and cleaning up. Just remember to make your reservation online, and you're all set for a fabulous Thanksgiving feast!
Reheating Instructions for Thanksgiving Dinner
If you want to reheat your Thanksgiving meal, follow these easy steps: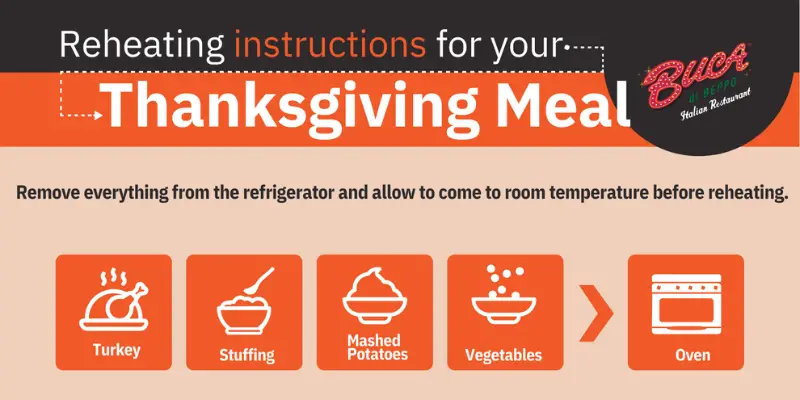 Step 1: Take everything out of the refrigerator and let it warm up to room temperature.
Step 2: Preheat your oven to 350 degrees.
Step 3: Open the lids of the containers with the turkey and stuffing. Peel back half of the plastic film. Then, pour the provided stock evenly over the turkey and stuffing. Cover them again with the plastic film and put the lids back on.
Step 4: Place the turkey, stuffing, and mashed potatoes into the preheated oven. You can use a baking sheet if you have one. Cook them for about 25-35 minutes.
Step 5: Carefully remove the lids and plastic film from the stuffing and mashed potatoes. Put them back in the oven.
Step 6: Now, add the vegetables (keep the lid on) to the oven. Cook everything until all the food reaches an internal temperature of 165 degrees.
Enjoy your reheated Thanksgiving meal!
Buca di Beppo Holiday Hours 2023 – Open/Close
Buca di Beppo Italian restaurants typically REMAIN OPEN during these holidays:
Is Buca di Beppo Open on Thanksgiving?
This year, Buca di Beppo will be open on Thanksgiving Day, November 23rd, and welcomes guests to enjoy a festive meal either at their restaurants or at home.
Buca di Beppo Thanksgiving Dinner Pick Up & Delivery
Get your Thanksgiving Dinner To Go or Catering from Buca di Beppo, available for pick up and delivery. Choose HOT, ready to serve, or COLD to heat up later. Here's when you can get it:
Thanksgiving Dinner To Go:
Cold pick up or delivery: Nov 20 to Nov 23, from 10am to 8pm.
Hot pick up or delivery: Nov 22 and Nov 23, from 10am to 8pm.
Thanksgiving Catering:
Cold or hot pick up or delivery: Nov 13 to Nov 23, from 10am to 8pm.
For any questions, just call your local Buca di Beppo. Catering team is ready to help with all your Thanksgiving and large group dining needs.
FAQs About Buca di Beppo Thanksgiving Menu
What time does Buca di Beppo open on Thanksgiving?
Buca di Beppo restaurants nationwide open at 11am on Thanksgiving Day.
ow much does the Thanksgiving Feast cost?
Pricing starts from $98.99 for up to six people, which is less than $17 per person. There are also options to feed up to 10 guests starting at $159.99 and 20 guests for $299.99.
Are there catering and to-go options available?
Yes, Buca di Beppo offers catering and to-go services. This allows customers to enjoy the Thanksgiving meal at home without the hassle of cooking.
What are the pre-order requirements for the to-go meals?
Fully prepared meals to go must be pre-ordered by November 23rd.
How is the pricing for to-go meals structured?
The pricing for to-go meals is as follows: Small, feeding 3, is priced at $78.99; and Large, feeding 6, is priced at $148.00.
Conclusion
Buca di Beppo's Thanksgiving Dinner offers a unique and enjoyable dining experience. With a menu that combines traditional Thanksgiving flavors with the restaurant's signature Italian twist, it caters to a wide range of tastes.
The prices on the Buca di Beppo menu are reasonable, considering the quality and variety of dishes available. Whether you're looking for a festive meal with family or a fun dinner outing with friends, Buca di Beppo Thanksgiving Dinner is an excellent choice that blends great food with good value.